We started our first season fishing for trout, got into some spring crappie, and walleye. But we didn't stop there! We managed to get down to Virginia's tidal bays for some nice flounder, and did a bit of wading in the Potomac River for a stringer full of tasty channel cats!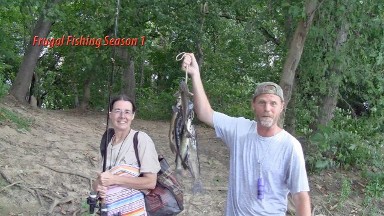 Season three got started bank fishing for some white perch to fill the empty freezer after a long winter, a day that included some great bass action as well. We then wound up on Lake Norris Tennessee fishing for shellcrackers, and later that summer, Michael landed what could be the catfish of a lifetime on the Potomac River in Washington D.C. But we didn't stop there, filming episodes from a rental boat catching yellow perch, bluefish from a pier, and rounding it out with great charter on the Chesapeake Bay for rockfish. Take that cousin Matt!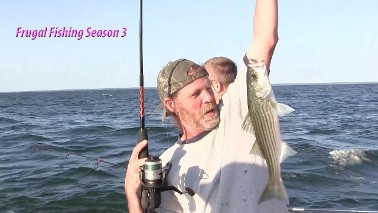 In our fourth season of Frugal Fishing, we had some downtime on a spring turkey

hunting trip and get started on a pier. That was the beginning of a great season that

led back home for exciting fishing from the bank during the spawning runs,

then right back down to a fun trip with a friend and his son on his first camping trip
and surf fishing on the outer banks while camping. We finished up back home with a

monster catfish that will not be forgotten anytime soon! Enjoy the action!




We began our fifth season of Frugal Fishing with a friend from Georgia. We had gone down to fish for landlocked stripers and film Fishing Lake Lanier. Our downtime produced our first video for season five. We then wind up on an icy cold trout stream taking a limit of trout, and enjoying the spawning runs while bank fishing local lakes with great success. From there, we head to the coast and take a look at some options for license free fishing along the Atlantic seaboard. Enjoy the great action, and get some tips on saving yourself a few dollars as well!