SPRING 2021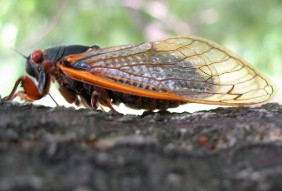 Spring is here, and this spring promises to be incredible for many. Brood-X will be emerging this spring. The periodical cicada hatch is a wonder of nature. Billions of these insects emerge to breed after seventeen years underground, feeding on tree roots. We're sure that as spring progresses, you'll be able to hear their shrill mating calls that often approach 120 decibels in our coming videos! We hope this doesn't become a problem. We enjoy spring turkey hunting, and the hatch will coincide with that season this year.
While it has been some time since their last hatch, we clearly remember that made it very difficult to hear the turkeys gobbling last time they emerged. But we will try and work around that. This is such an amazing event, I'm sure we will end up producing a video about it, they may end up being featured in a few other videos as well. Some folks even eat them, but we don't know if they'll make our Recipes Included list.
We will be trying to move back into full production mode this spring. Mike and Dana are juggling roles as caretaker for his father since his mother's passing, but have plans to do a few spring turkey trips. Unfortunately, due to everything going on, we will not be able to visit Chris in Florida this spring, but plan to twist his arm to try and get him to film a video for us anyway. We hope he is able to do that, and we eagerly await any memory cards he can mail us!

As we create fresh content, it will be posted to our "Now Playing" page. We have already gotten our latest releases posted there, an Opening Day Trout Fishing trip, as well as videos from the adventure we just returned from in Tennessee! You'll also find by using the link that we've posted video of the recent trip that Matt and Michael took to Arizona to do some herping, and located a Gila Monster! There are quite a few other spring adventures to chose from on this page as well, and we'll have several more to post soon!

While you're waiting for fresh fishing content, don't overlook our Frugal Fishing page, packed with videos of great fishing action, that include money saving tips and fishing tips that could help you pinch pennies and put a few more fish on the stringer. Our herping fans can use this link to the Herping Maryland series until we can get out and do a bit more as spring moves on. You'll find a few links to some of our spring themed videos by scrolling down to the bottom of this page as well! Moving on through this pandemic, remember, no matter what your favorite activity is, the outdoors is a great place to social distance!

Stay safe, and be well!