WINTER 2017
So another winter is upon us. While this time of year brings celebration and the holidays, it also brings a degree of sadness for the Camochair Crew. It marks a period of the year when hunting seasons wind down and close. Outdoor activities can grind to a halt as we focus more on falling back into the daily grind after our hunting vacations. But now is the time to look ahead and start planning for next years adventures, big and small! We also find we have the time to review and edit the footage on the hard drive we have not had time, as of yet, to process. You'll find a new video in our "Now Playing" section, The Waiting Game, a hunt on which Mike spent the entire day in his stand waiting out a buck that had bedded 60 yards away, only to have him move off late in the afternoon, but salvages the evening by putting meat in the ice chest when a doe came in a bit later. We also want to use this section of our site to post a variety of videos, ones that reflect some of our past adventures of all sorts, herping, fishing, and hunting. Hopefully, this will give you some ideas if your looking to plan some of your own outdoor adventures for next spring and summer!

We already have a few plans in the works, and cover a few of those plans in the descriptions for our videos in that section as well. Of course, at the time of this posting, there are still a few hunting options open for us, so as we get the occasional breaks from work, we plan to have the cameras in the field to film fresh content, if possible, and keep the action coming. You may want to give us a like on our facebook page to stay up to date if we are fortunate enough to bag a late season deer, a few more ducks, or small game!

Click the photos below for some great recipes for your game!
If you've had some some luck this hunting season, or have some fish or game in the freezer you don't know what to do with, you may want to check out our playlist of videos at this link titled Recipes Included. We offer a variety of tasty ideas on how to prepare that fish and game for some extra tasty table fare!

We wish everyone a great holiday season, and a happy, healthy, and productive New Year, and hope you will join us into 2018 and beyond as we keep the cameras rolling on our outdoor adventures!
We've been sharing out videos on MyHuntProfile.com Click the links for more Information.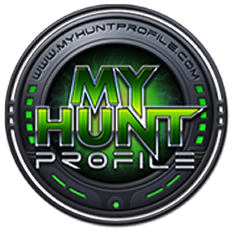 Spring is almost here! The seasonal migrations are ready to kick off! You can click here to see our video Early Spring Herping and join us as we offer tips to make your first herping trips of the year successful!