FALL 2017
Another fall season is upon us! We are lucky here, as our archery season opens early. This allows us to get out and start replenishing the freezer with tasty free range game! As the season progresses, if we are fortunate enough to have the opportunity, we will add new videos to our Processing Game and Fish series. For us, taking the bounty of the outdoors from field to table ourselves compliments our outdoor experiences. As titled, these videos demonstrate how to dress and clean game and fish at home, and can save you some money, as well as provide some really good eating! We hope you find them useful!

Hunting does occupy much of our free time in the fall. But there is also good fishing to be had. With this update we have included one of our latest releases. Michael and Mike recently had a fantastic trip to the Potomac River, where they landed a HUGE blue catfish. Dana and Mike filmed Frugal Fishing 6.6 in late October on Deep Creek Lake as well, and enjoyed some fantastic fishing for yellow perch, bass, and walleye. You'll find our latest fishing video, Fishing Fletcher's Boathouse for Giant Catfish posted with this update in our Now Playing section. So if hunting is not your scene, be sure to check it out, as well as our Frugal Fishing videos. These videos not only offer great fishing action, but fishing and money saving tips that can help you fill your stringers on a budget.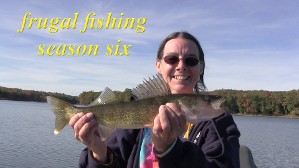 For the fisherman, fall can be a time of transition. Fish often break from their summer patterns as they prepare for the upcoming winter. This can leave an angler wondering where the action went. This year, we started a new project, Fishing Unfamiliar Waters. In these videos, we started fishing a new lake, and are taking a look at tips and tactics that can help you find fish and fill the cooler on a new lake. As fall sets in, we hope to add to this collection and explore how to keep those poles bent and the cries of "Fish On!" continuing as the leaves change!
Michael shall be continuing his efforts to provide fresh herping content for the site, as well as his side project Neverending Herping, for which he will also be creating fresh video content, In our "Now Playing" section, you'll find his latest adventure, a trip through the Utah to find herps and other wildlife! Chris usually finds time to join us for a visit from his home in sunny Florida around the holidays, so perhaps we can plan a return visit to the sunshine state for some more Herping in Florida , or perhaps another tarpon fishing trip at that time. Matthew, Siobhan, and our latest crew member Desiree will also be involved in future projects. While they are not inclined to join us in the field for our hunting adventures, they are all avid outdoor enthusiast. Their interest range more towards the herping activities, as well as joining us on the occasional fishing trip. You can be sure we will be out there enjoying the cooler temperatures and beautiful scenery this fall, and will be posting fresh video content as often as possible!


We've been sharing out videos on MyHuntProfile.com Click the links for more Information.